Jacque is a trooper!!  (read her side of the story below) Her scarring is very prominent, not centered and run across the top as well as the bottom of the breast.  A very large patch of radiation burn left its mark on the top left breast, making it extremely sensitive and difficult to tattoo with its varying texture and surface.  This was the worse radiation burn I have seen to date, and getting the surface completely tattooed took 3 sessions.  The skin tissue gets swollen, irritated and painful very quickly, limiting the amount of work I could do in a single sitting.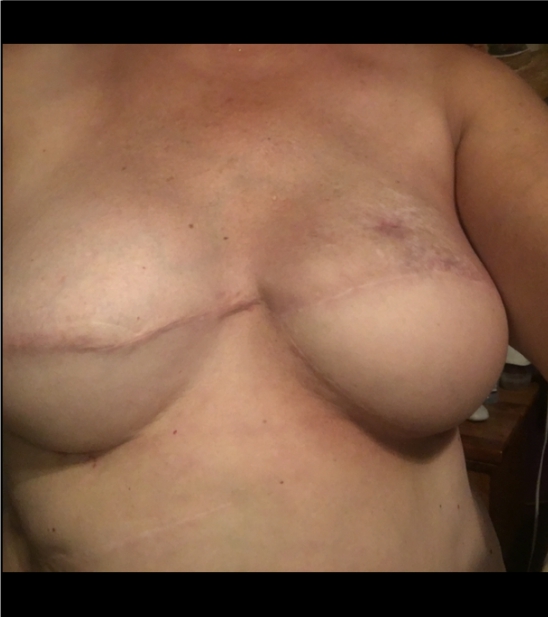 Every case is different, and needs planning time when it comes to larger tattooed pieces such as her lace gypsy bra, and other images covering scars and burns.
In the image below you will see the radiation burn I was referring too, and some of the damage left behind.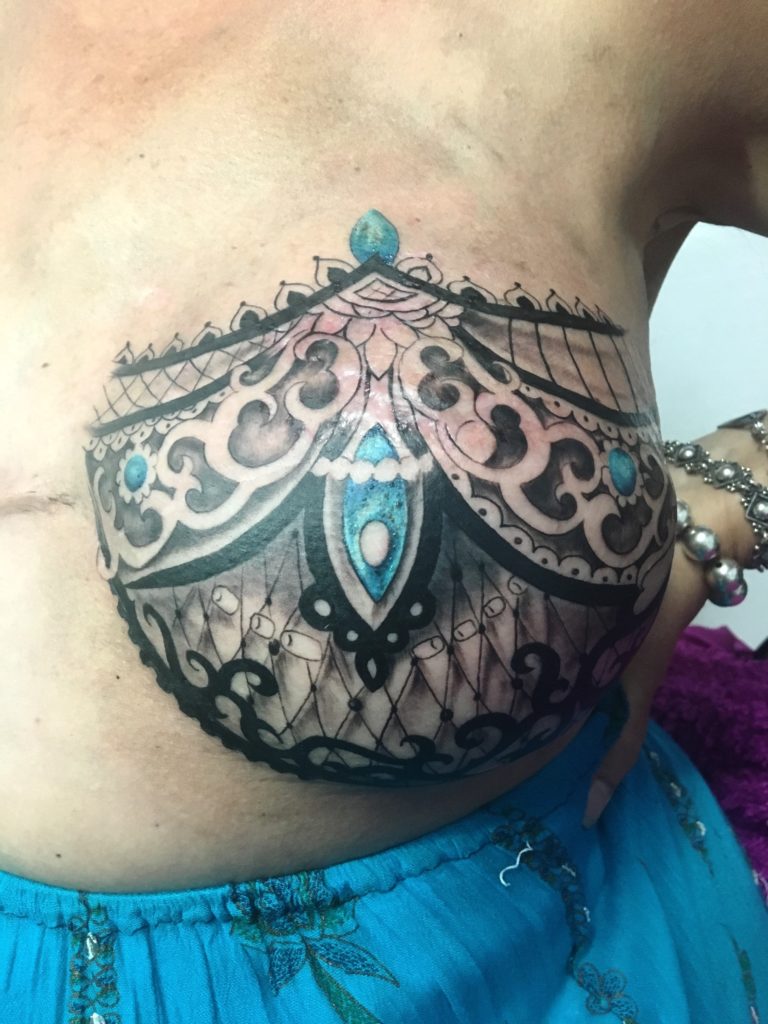 A few weeks before we began, the surgeon reopened the center scar to get it to heal to a flatter surface, as it was raised.  Healing time for this is not as long as waiting for the actual procedure scars, so we are still able to finish within a 2 month timeline, when we complete it on March 17. 2017 at the Bradenton Tattoo Convention "Tattoo Fest"
For the FIRST time, we will be public for those who would like to see the tattoo procedure being done, have questions for either Jacque or myself, and those who would like to be part of this chapter's closing.  There is not enough education for women and alternatives out there and I want to help change that.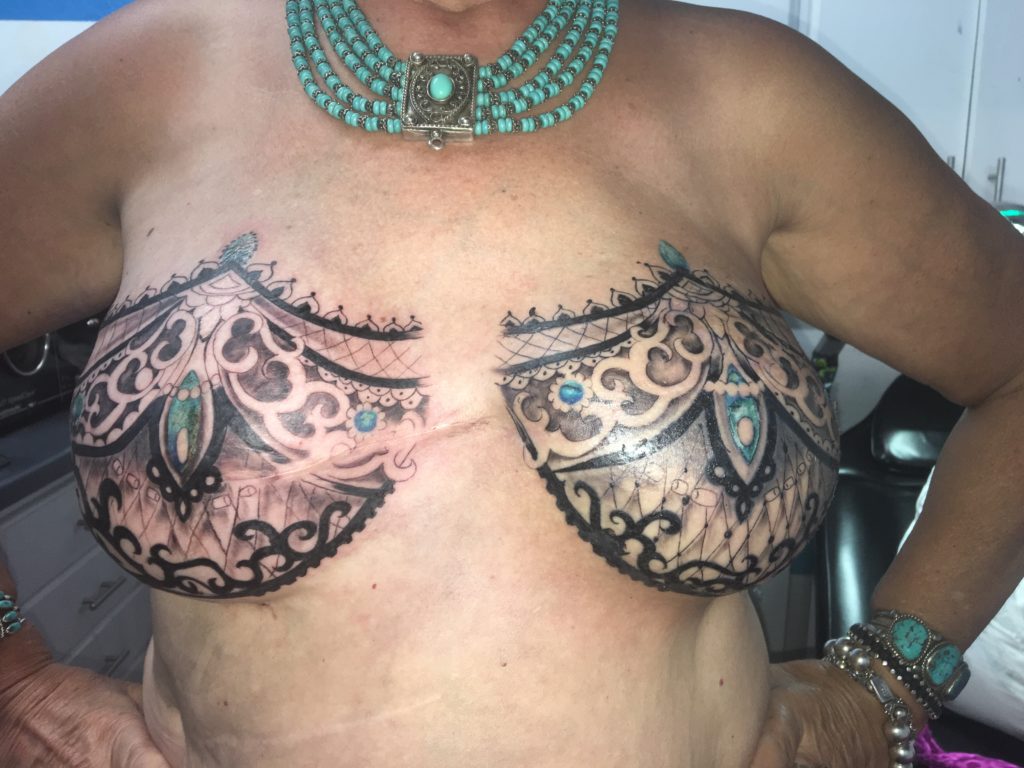 In Her Words :  
My story is like a lot of other women. Diagnosis, double mastectomy, chemo-therapy, and radiation. Right from the beginning I knew I wanted pretty breasts after all this. I had expanders put in, then 3 operations. I initially opted for 3-D nipple tattooing instead of nipple reconstruction, and began scanning tattoo websites where I saw some bra tattoos. Immediately I knew that was more "me". Now, I just had to find an artist that was artistic person, not just someone who could run a needle machine.
I came across Legacy Blue Tattoo Studio and was checking out different artists when "Lita" came up. Just looking at her work I was pretty sure she'd be the right person for me, so I made an appointment to meet with her.
I dressed as I always do with a lot of Native American turquoise and silver jewelry, black t-shirt and skirt, took a few pictures that I liked, one of a full bra tattoo, and one a full back piece tattoo of "The Day of the Dead", very lacy and detailed. We talked and when I returned a couple of weeks later, in front of me on a sketch pad was her version of a lacy black bra with turquoise stones and beads, just for me. She had read me perfectly! I couldn't wait to get started. So far I've had 3 sessions, and the middle section will be finished at the tattoo convention on March 17, 2017.
I think its so amazingly beautiful, that I will show it to anyone who appreciates fine art and even those who don't. When I look in the mirror everyday I smile and i'm happy. The railroad tracks of scars have disappeared along with the bad memories. I'm so so happy. Thank you Lita.
Jacque
In My Words : 
Working with Jacque has been a joy.  This tattoo could not have been more perfect and fitting to the person as this is to her.  Being a long time professional costume designer, it was both an honor and a challenge designing her costume, a costume she would never remove.  One that made a final statement to and about herself, for herself.  And just so all of you know, this was her FIRST tattoo!
I'm elated to have made friends with her.  I look forward to each session and have enjoyed watching her flourish each time.  I will be sad to be finished however, we have discussed linking it all the way around in the future.
We will be finishing the final center piece  at the Tattoo Fest in Bradenton on March 17, 2017 and I am thankful she has agreed to help be front runner with me in a quest to open this up to educate others and hopefully get the chance to work with more women and men in restoring and creating a new self.
Thank you Jacque