Whether one or both breasts is involved, a scar is inevitable.  Sometimes it's not so much about the tattoo, but more about the celebration of life and the survival of it.  Let me introduce Kirsten and her choice of design.
1st: Stage 4 Breast Cancer when they found out.  "I had the kind of cancer most people don't come back from", she says.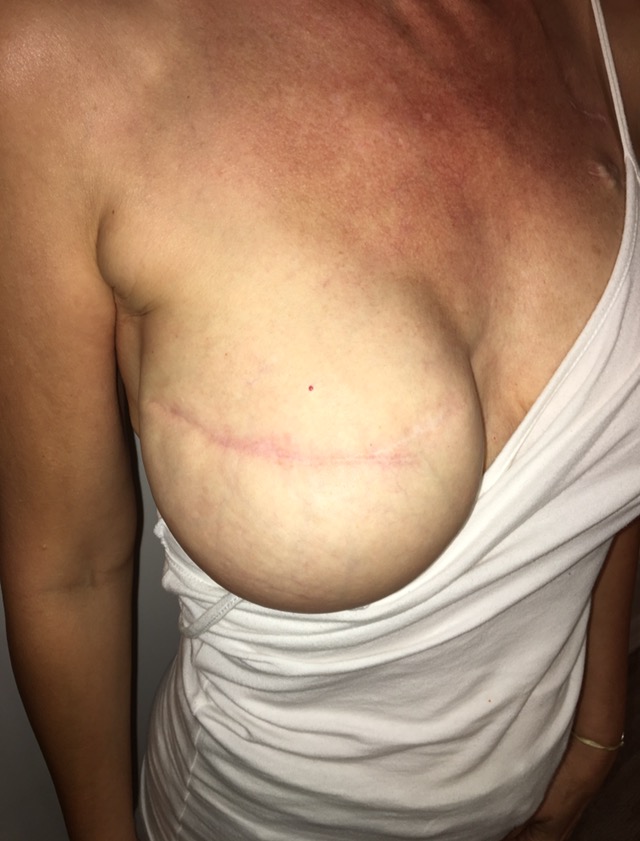 She battled her demon, with the intention of getting her scar covered as a celebration to her recovery from something that tried to kill her.  Through it she stayed strong, and developed a following of women, leading the way with a different perspective.  So to me, the design she chose was perfect for her.  The circle of life, with colors so brilliant that you are immersed in its beauty, movement, and intricacies, that one would never know what lies beneath.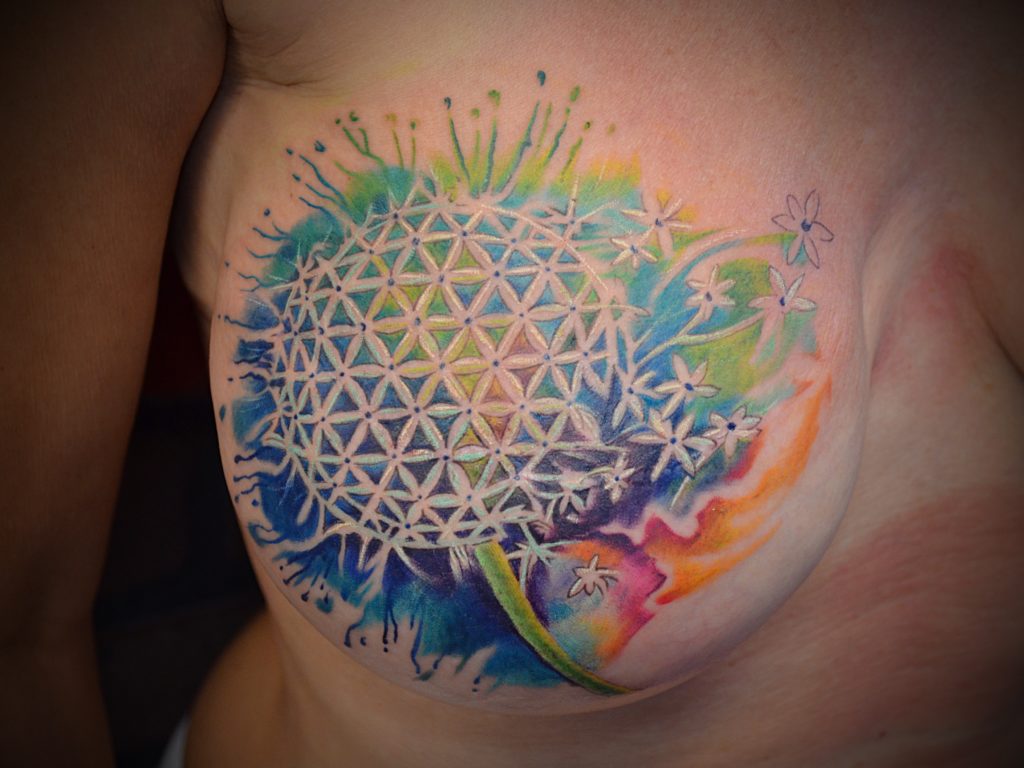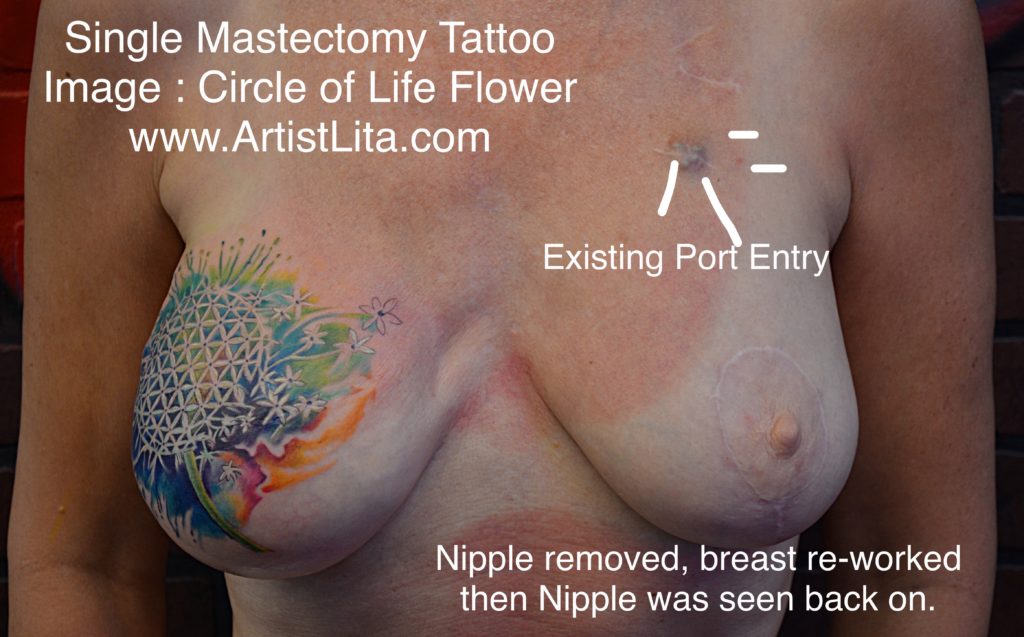 As a tribute and celebration with her, her daughter also got a matching design because the day finally came, she was finally cancer free.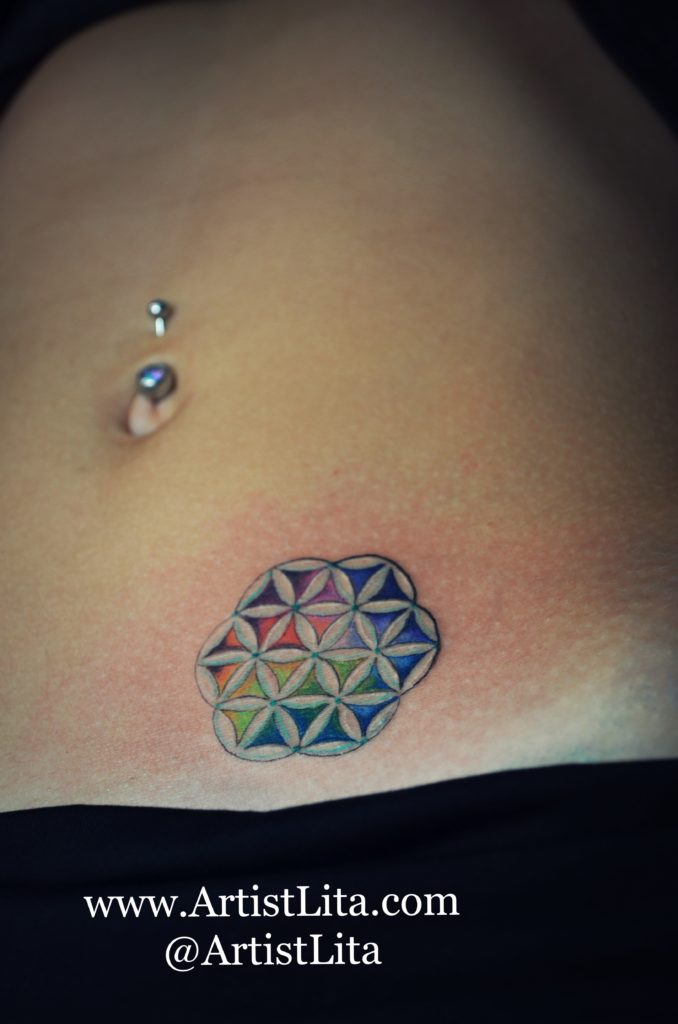 In Her Words:
"You have cancer," the words no one ever expects to hear were echoing in my head. It explained my symptoms, but it certainly made no sense to me at the time. I was one of the healthiest people I knew. And just like that a nineteen months journey began that started with a grade three breast cancer diagnosis and progressed to stage four with metastases in the lymph and neck. It included 6 months of chemo treatment, a single side mastectomy, double reconstruction as well as 3 other procedures. My healing journey included all kinds of integrated modalities and practioners, immune treatments in Europe for extended periods of time, spiritual adventures, and mental and emotional healing.
Cancer, in so many ways has been a beautiful blessing in my life. It did not only provide the opportunity to transform my life, but along with that healing on a very deep emotional, mental and spiritual level.
From day 1 I stated that I would not fight or battle cancer, but that this experience would be the biggest love affair of my life. If I believed I had to fight cancer, then I would have to fight myself since cancer was now part of me. Also, if I saw myself as a warrior or fighter than I'd continue creating battles consciously or unconsciously to affirm that picture of myself. Instead I became a lover!
I started a blog to share my journey with friends and my extended network. As a business and personal transformation coach it was important for me to show what a cancer journey can look like when we orient to love, trust and joy. So I shared everything from my bald head (which I adored since it made me super spontaneous – no bad hair days ever) to chemo treatments, to fever treatments in tunnels, and lots and lots of pictures from my adventure travels.
Throughout this journey I have been wearing a Flower of Life amulet on my wrist. I was never afraid to die, but I put my energy into living as fully as I could. The amulet reminded me that life is awesome, precious, joyful and worth sticking around for. I declared that when I get the news that I was cancer free I would get a permanent Flower of Life tattooed on my breast.
I had been looking for just the 'right' artist that would get what this tattoo means to me. I came across Lita's work and was blown away! When I saw her work I knew right away that she was the one. I only had a very small amount of time since my daughter and I were only visiting Florida for a few short days. As "luck" (or faith) would have it Lita had an opening and was able to work with me and my daughter who received a small version of the flower. It was the best celebration!!! I can't even begin to express my gratitude to Lita. She is absolutely amazing, kind, thoughtful, dedicated as well as delightful to be with.
I love love love mine and my daughters tattoo. I have been flashing my breast a lot thanks to Lita!!! Haha I love the beautiful end result of this long and incredible journey.